Zelfverdediging voor Vrouwen / Selfdefence for Women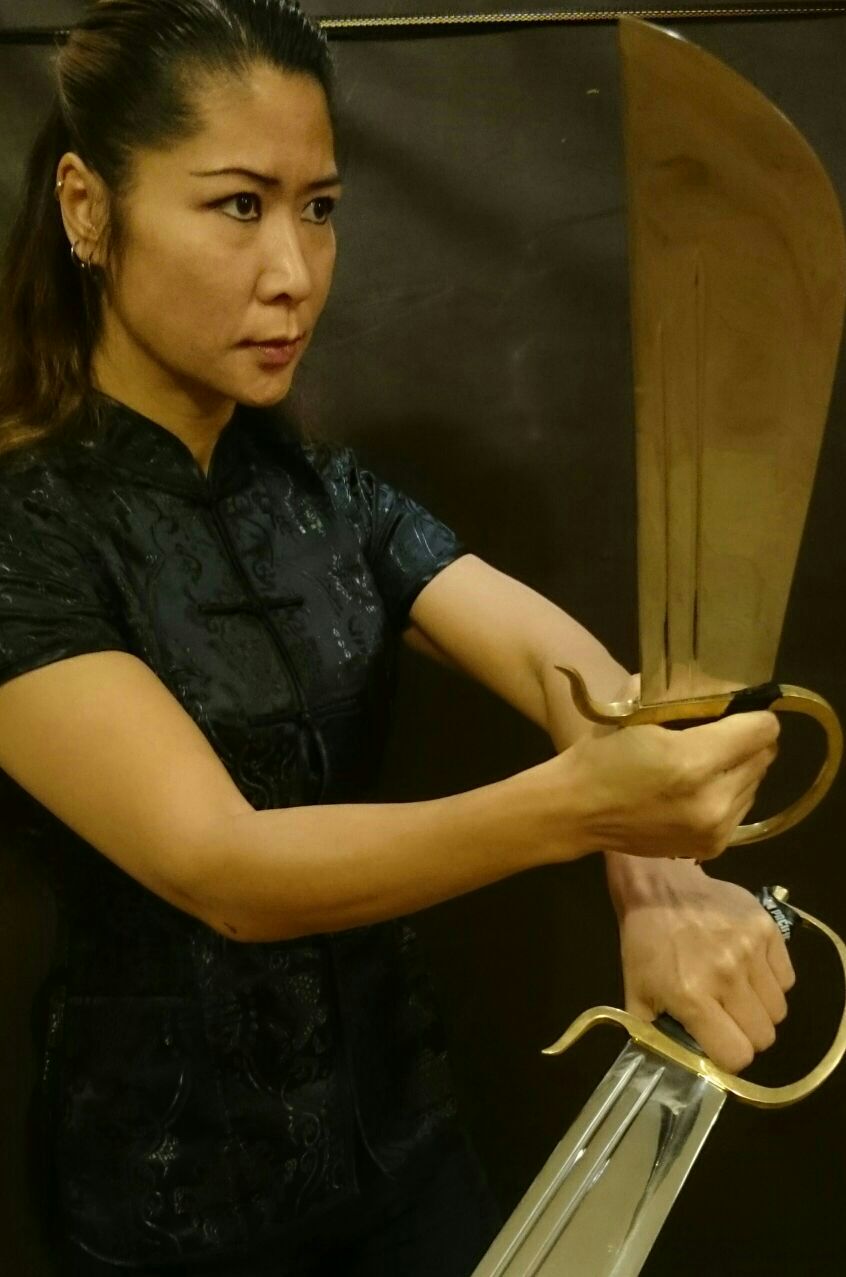 Wing Chun is een zeer intelligente gevechtsmethode voor vrouwen die is gebaseerd op snelheid & vaardigheid. Wing Chun Kung Fu is een vechtkunst uit het zuidoosten van China & betekend Eeuwige Lente. Het is gespecialiseerd in vechtkunst op korte afstand, de nadruk ligt op korte & snelle bewegingen. Men leert niet alleen zelfverdediging & weerbaarheid, ook wordt er aandacht besteed aan de balans van lichaam & geest (gevolg: je wordt energieker & positiever). Het maakt gebruik van principes als minimale beweging, eenvoud, directheid, efficiëntie & effectiviteit. Wing Chun is een conceptioneel systeem & kent geen absoluten.
Onder leiding van Ginny Chow geven wij zelfverdediging voor vrouwen. De Wing Chun Kung Fu stijl is ontwikkeld door een vrouw & werkt erg goed tegen een grotere & sterkere tegenstander. Wing Chun is voor weerbaarheid & een goede gezondheid. De lessen zijn praktisch, direct & simpel. Naast weerbaarheid wordt er ook aandacht besteed aan ademhaling, ontspanning , lichaamshouding, omgaan met angst & zelfvertrouwen ( bijvoorbeeld met studie & examens ).
SELF DEFENCE FOR WOMEN
Wing Chun is a very intelligent combat method for women based on speed and skills. Wing Chun Kung Fu is a fighting art from South - East China and means Eternal Spring. It specializes in short range fighting with the emphasis on short and fast movements. Not only will you learn self-defense and develop resilience; you will also achieve mind and body balance. As a result, you will feel more energetic and you will be more positive. Wing Chun employs principles such as minimal movements, simplicity, directness, efficiency and focuses on effectiveness. Wing Chun is a conceptual system, does not have any universal truths. Under the guidance of Ginny Chow we offer self-defense for women. The Wing Chun Kung Fu style was developed by a woman & works very well against a bigger & stronger opponents. Wing Chun is for resilience & good health. The lessons are practical, direct and simple. Besides resilience, attention is also paid on breathing, relaxation, posture, dealing with fear and self-esteem (through specific studies and assessments).
Lessen / Lesson
De lessen bestaat uit: Warming up, rekken , lichte conditie training, basisbewegingen tot verdedigings technieken via 3 handvormen; 'Sil nim tao, Chumkiu & Biu Jee' 'aanval & verdediging'. Drills, ontspanningsoefeningen & meditatie als slot.

小念頭 Sil Nim Tao is de eerste hand vorm van Wing Chun Kungfu. Betekent het begin van de idee, er wordt hierbij veel basis geleerd , definieert de hartlijn, versterk de juiste elleboogpositie, het aanbrengen van basis structuurhoudingen.
尋橋 Chum kiu is de tweede van drie open hand vormen van Wing Chun Kungfu . Het bouwt voort op veel van de basisprincipes en technieken in de eerste Wing Chun vorm.
鏢指 Biu Jee is de derde hand vorm van Wing Chun Systeem. Methodes tijdens noodsituatie's wanneer men verrast of gecompromitteerd.

The lessons include: Warm-up, stretching, light-weight training, basic movements with defence techniques through 3 hand shapes; 'Sil nim tao, Chumkiu & Biu Jee' 'attack & defense'. Drilling, relaxation exercises & meditation to end the lesson.

小念頭 Sil Nim Tao is the first hand of Wing Chun Kung Fu. It means "the little idea". It teaches a lot of basics, defines the central line, the right elbow position, developing a solid base structure.
尋橋 Chum kiu is the second of the three open hand forms of Wing Chun Kung Fu. It builds on many of the basic principles and techniques in the first Wing Chun form.
鏢指 Biu Jee is the third hand form of the Wing Chun System. It is for emergency situations in the moments when you are taken by surprise or the situation is compromised.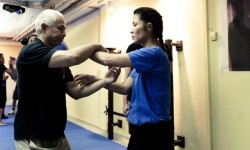 Ginny Chow:"My Teacher Michael Yan Choi, Thank you for sharing all your highlevel knowledge and skills. From the Beginning to the Present Day of my Wing Chun!"
Ginny Chow Wing Chun, Stichting De Chinese Brug in Den Haag.
Proeflessen / Trial lessons
Voor proeflessen kunt u met ons contact opnemen via het contactformulier

If you want to try or follow some lessons from Ginny Chow, please do not hesitate to contact us via the contactform.